In my writing, I have tried to be faithful to the island and its businesses. I should remind you that my stories are fiction, because crime as I write it does not happen in Key West. We are a long way from the mayhem and gangs of Miami, but with a vivid imagination, I have been able to create the situations needed for a political-murder mystery series.

Below is a list of my books and short stories. Feel free to read a few chapters or just browse through my site. Thank you for checking in and please keep coming back for updates.

Enjoy.



Listen to The Ballad of Mick Murphy
by Joey Philpott

Warning: The unauthorized reproduction or distribution of this copyrighted work is illegal. Criminal copyright infringement, including infringement without monetary gain, is investigated by the FBI and is punishable by up to 5 years in federal prison and a fine of $250,000.

The opening of the bullfight season in Tijuana, Mexico, finds Mick Murphy up against Central American death squads as he tries to help the 'rebel' priest escape Mexico and enter the USA with evidence of government involvement in the death of Jesuits and their housekeeper in El Salvador.
» Read Chapters
» Purchase Tijuana Weekend


Michael Haskins on Good Morning Florida Keys with Jenna Stauffer

---

"FREE RANGE INSTITUTION by Michael Haskins is "A masterful tropical mystery. Every city has an ugly underbelly populated with bad guys—even touristy Key West. In Michael Haskins' deft storytelling, this tip-of-Florida isle—literally at the end of the road—is equal parts paradise and murderous mayhem, one made all the more exciting by his hero, Boston Irishman Mad Mick Murphy." -- W.E.B. Griffin & William E. Butterworth IV, Wall Street Journal and New York Times #1 bestselling authors

"Free Range Institution: Imagine . . . cocaine cowboys, side street shootouts, big city crimes in small town surroundings, fallen angels, a chain-smoking priest . . . corruption . . . greed . . . murder . . . covert operations . . . with journalist Mad Mick Murphy reporting. Michael Haskins' narrative makes us comfortable in Key West . . . before he roars through the island like a Tropical Hurricane. It's a perfect storm." -- Steven M. Forman, author of "Boca Knights" and "Boca Mournings"

"I've had the privilege of spending a month during each of three years on Key West. Michael Haskins, now, has lived on the Rock for more than a decade. And, like most non-natives who become reporters for local newspapers, he's absorbed more island life and lore than most. FREE RANGE INSTITUTION is a wonderful new entry in his Mick Murphy mystery series. Happily for those who love Key West, FREE RANGE INSTITUTION is both a terrific ride through, and a terrific read about, the people and places personifying America's beachhead in the 'North Caribbean.'" -- Jeremiah Healy, author of RESCUE and SPIRAL

Murders & Mojitos
The Key West capers of Michael Haskins: Southern Writers Magazine, Read Article
.....................................


My books are now available on CreateSpace via my eStore.
.....................................
NEW!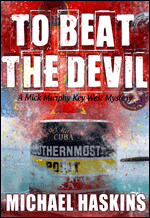 To Beat The Devil Is Now Available For Purchase
.....................................
Vampire Slayer Murdered in Key West and Other Mick Murphy Key West Short Stories


CLICK TO PURCHASE
.....................................
Private Eye Writers of America's Shamus Award Nominee

My short story, Vampire Slayer Murdered in Key West, was nominated for a Shamus Award. Was I surprised! The nice thing, other than being nominated, is that the committee that chose my story is made up of fellow writers. It is an honor to be nominated and I am humbled.
.....................................
Key West Island Books is offering signed copies of my books with purchase.
.....................................
Please consider your local independent bookstore first before ordering online.
Websites I Recommend:
This is a website with links to independent bookstores and you can see if there is one close by to you. Independent Mystery Booksellers Association

Key West Travel Guide
Information and reservations
for the island's attractions,
tours, hotels, and dining.
.....................................
Follow Me to Facebook
(coming soon)